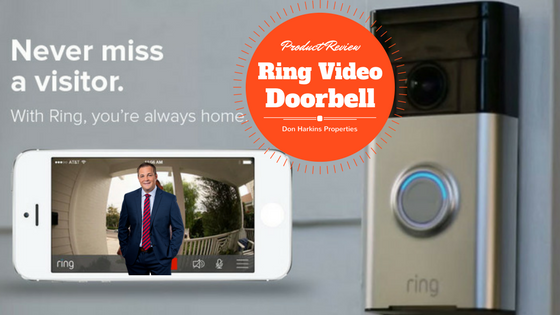 There are plenty of reasons for homeowners to love the Ring® video doorbell and I'll cover a few of them today. I started following this product when it was first released in 2012 as Doorbot. Recent versions have significantly improved on the design to include 1080p wide-angle video, instant mobile alerts and a built in microphone with speaker.
What is it?

The ring video doorbell replaces your current doorbell with live view on-demand video and audio sent directly to your mobile phone. The latest version features adjustable motion sensors and infrared night vision. It can either be hardwired into your existing wiring or operated using a rechargeable battery for properties without doorbell wiring.
Why use a Ring® Doorbell?
Security is one of the main reasons homeowners are investing in Ring®. People who work nights and weekends, frequent travelers and consumers who receive a lot of shipments on their front porch can all benefit from the home monitoring and theft deterrent features.
Does it really work?
YouTube is full of videos like the one below featuring homeowners catching criminals red handed on their front porches. It Definitely Works.
Do you have a favorite home security or smart home product that we should know about? If so, send me an email at Donharkins@kw.com and we'll check it out for our customers. If you want to add a Ring Video Doorbell to your house then click this link: www.ring.com